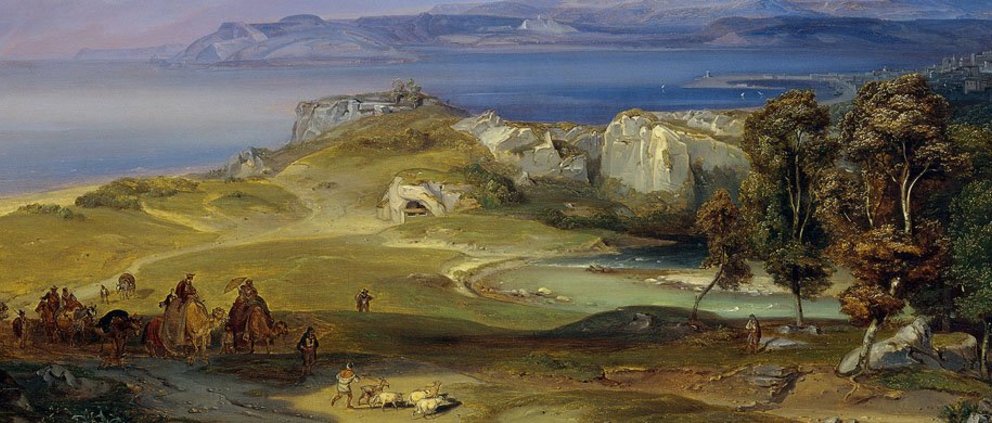 Italian Landscape of the Romantic Era. Painting and Literature
Tivoli and the Roman Campagna, Capri and the Bay of Naples, majestic silhouettes of lofty mountains, glittering expanses of sea, dignified ancient architecture and Mediterranean flora: "il bel paese" – the "beautiful country" as seen by writers and artists, is at the focus of this special exhibition.
Exhibition Site

Bad Muskau
DATES

11/05/2016—21/08/2016
text
In the late 18th and early 19th centuries travellers to Italy increasingly focused on the perception of nature. Their encounters with southern climes promised a substantial impetus for artistic development and regeneration. Hence, the Italian landscape became a new ideal for landscape gardens which spread more or less simultaneously from England over the whole continent of Europe. One of the most important protagonists of this movement in Germany was Prince Hermann von Pückler-Muskau, whose park and castle in Bad Muskau are an ideal venue for the exhibition. His landscape park, which was begun in 1815, is now one of the most beautiful in Europe and has been a UNESCO World Heritage site since 2004. Indeed, the park itself was originally conceived as a kind of museum: "A park must be like an art gallery, every few steps you should see a new picture." (Pückler-Muskau)
The special exhibition in the New Castle (Neues Schloss) features more than 20 masterpieces – landscapes full of light by painters such as Jakob Philipp Hackert, Ludwig Richter, Ernst Ferdinand Oehme, Carl Rottmann and Carl Blechen. All these paintings reflect the poetry of nature, the rich colours and forms found in the south. Most of them are usually housed in the Dresden Albertinum and are among the highlights of the Galerie Neue Meister; thanks to the restoration of several paintings from the store room, their original radiance has been revitalised.
text2
Selected writings by contemporary authors who also travelled around Italy – Johann Wolfgang von Goethe, Johann Gottfried Seume, Madame de Staël and Wilhelm Waiblinger – enable the Italian landscape to be experienced in a combination of genres. The most important starting point for such painted and written projections of this land of longing, Goethe's "Italian Journey" was first published in instalments in 1816, and so the year 2016 marks the 200th anniversary of its publication. It initiated a period of German fascination for the "land where the lemon trees bloom" (Goethe), a fascination which – with few exceptions and several interruptions – extended into broad social circles and whose effect is still felt today.
[Translate to English:] weitere Ausstellungen